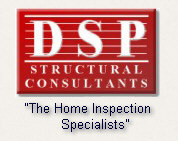 This site runs best using Microsoft Internet Explorer

Download The Newest Version of Adobe Acrobat Reader


Linking To Our Home Page
We encourage any related site (real estate, construction, or building industry sites, etc.) to link to our home page at http://www.dspinspections.com. We do ask that you use one of the logo images on the right for the link, and do not modify the button image in any way. A text link is also acceptable. Please send us a note informing us of your link. Don't forget to include your site's URL.
Linking To DSP Articles
We also encourage you to link to specific DSP articles that may be of interest to you or your customers. Again, please use a text link or one of the logos on the right. No reproduction of materials contained in the articles is allowed without written permission.

Terms And Conditions
You may use the DSP logo and name on your site only as the link to our website. No other use of our name and logo is permitted without written permission.

Any use of our name or logo on your site must be informational in nature, and may not imply that we endorse or support your product.

Please refer to copyright notice for more specific information.